Cabinet Material:Cast Iron & Single Side Design
Application:It is applicable for commercial center, airport, big conference, city's landmark plaza, exhibition center and other outdoor advertising walls..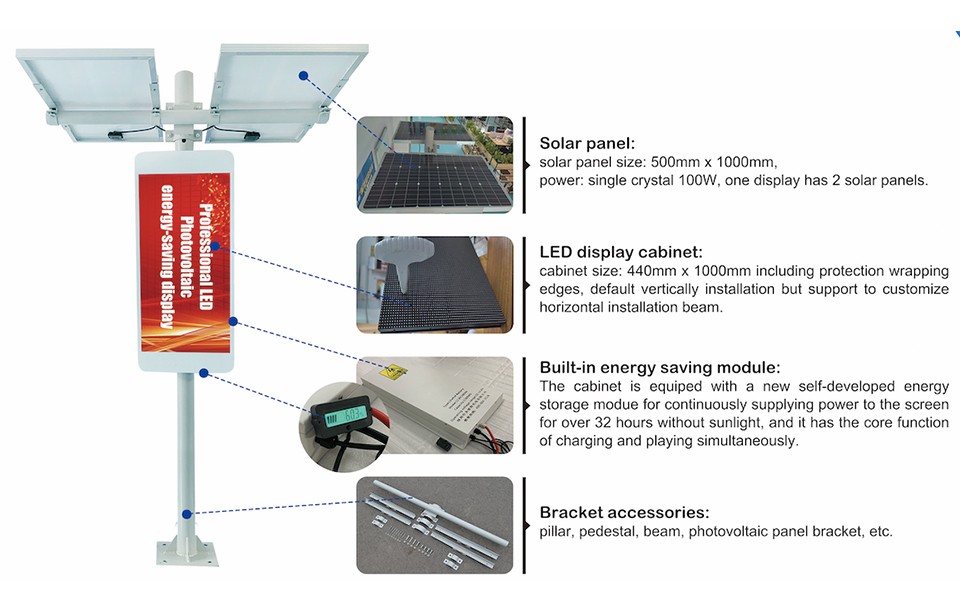 Support Full Front Service
This LED display adopts full sealed cast iron cabinet to protect its inner componets and make the display body to withstand extremely high and low temperature. It can work whole day in outdoor environment. It also support full front service.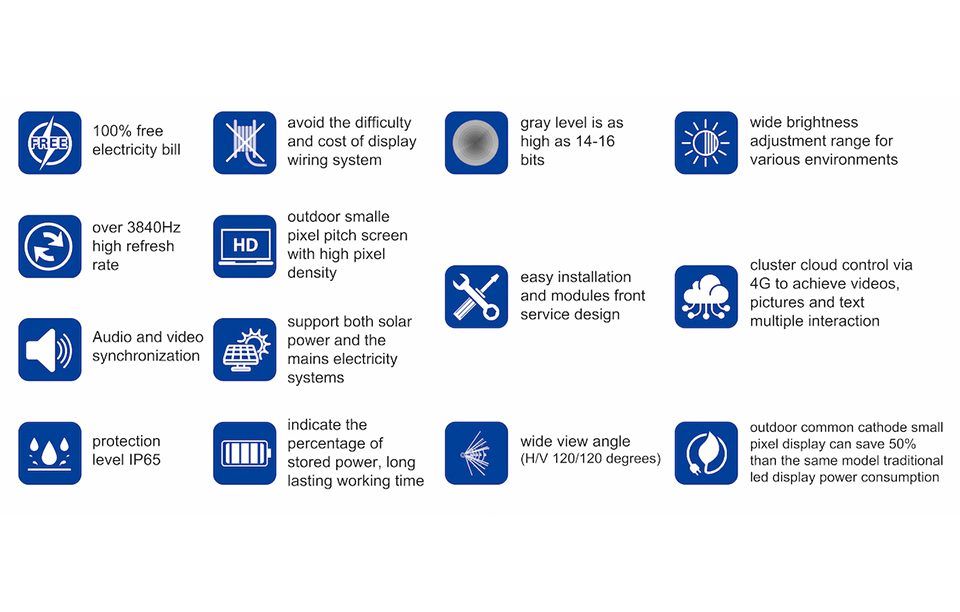 Energy-saving and Super High Brightness
This cabinet is designed to be slim and light weight, which is only 28.5kgs per cabinet 960x960mm. The common cathode aluminum LED module is designed to meet the requirement of outdoor big wall for full front service purpose. Its brightness can reach over 8,000 nits and the maximum power consumption is less than 375 Watts.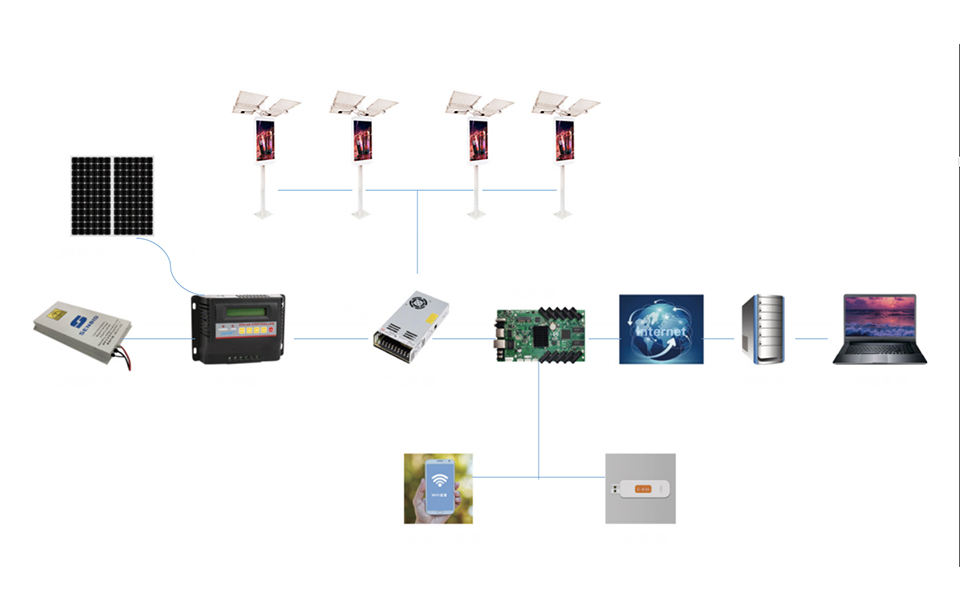 Ultra-light weight and thinner
This cabinet is less weight than standard outdoor LED cabinet. Usually, standard outdoor LED cabinet 960x960mm is over 54KGS per square meter, while this new design of slim cabinet is only 30KGS per square meter. In addition, the deepth is thin less than 11cm, but the standard outdoor cabinet is about 14cm deep.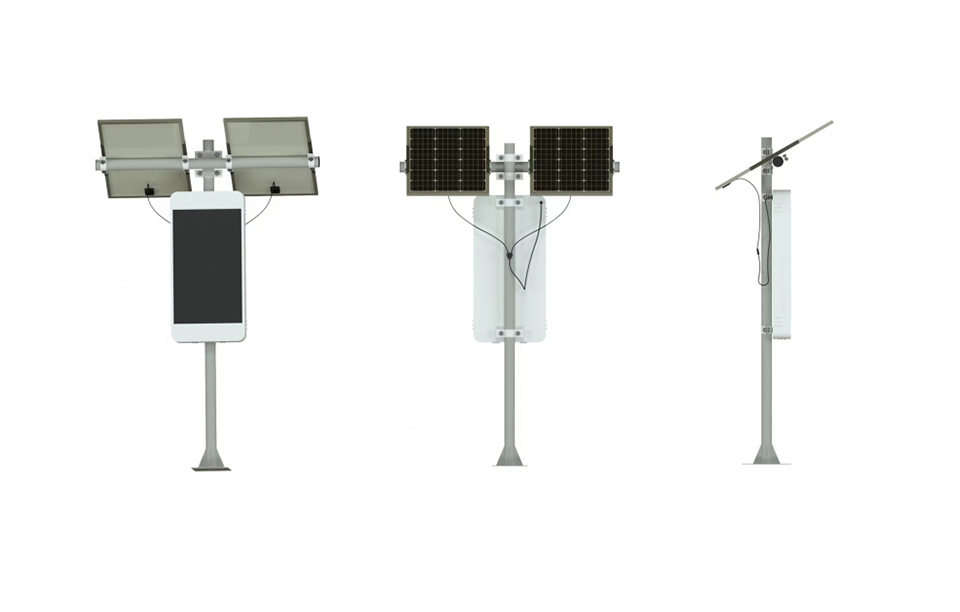 Full Waterproof IP65
This cabinet is designed to be seamless on both front side and rear side. Its IP rate is IP65. It can effectively protect the dust and water. It also can unti-UV and anti-erosion. This cabinet can be used in all types of the harsh environment.
Product Parameters
| Item | Parameters |
| --- | --- |
| Pixel pitch | 3.84mm-3.84mm |
| Pixel Density | 67,816 pixels/sq.m |
| LED Module Size | 200x200mm |
| LED Module Resolution | 52x52 dots |
| LED Type | SMD1921 Copper Wire LED Lamp |
| LED Cabinet Dimension | 440x1000mm |
| Display Size | 400x800mm |
| Signal Processing | 15 bit |
| Grey Level | 4096 - 65536 |
| Refresh Rate | > 3840Hz |
| Scan Mode | 1/13 |
| Brightness | > 6,000 nits |
| Viewing Distance | > 5m |
| Horizontal Viewing Angle | 160 degree |
| Vertical Viewing Angle | 160 degree |
| Input Voltage | 100-240V/50-60Hz |
| Max Consumption | 80 W/SQ.M |
| Ave Consumption | 50 W/SQ.M |
| Working Temperature | -20 degree to 45 degree |
| Storage Temperature | -40 degree to 60 degree |
| Input Voltage | DC5V |
| IP Rate | Front IP65, Rear IP54 |
| Working Humidity | 10% - 90% |
| Storage Humidity | 10% - 95% |
| Lifespan | > 100,000 hours |
| MTBF | > 10,000 hours |
| Service Type | Front Service |
| LED Lamp | Nationalstar |
| IC | ICN2153 |
| Control Card | Nova / Colorlight / LINSN / Huidu |
| Weight per cabinet | 50KGS |
| Weight per sq.m | 50KGS |
| Cabinet Material | Cast Iron Cabinet |
| Control Mode | 4G, WIFI, USB, PC |
| Support | Audio system by built-in speaker |
| Power Storage Model No. | 12.8V 100AH Standard |
| Outer Box Dimension | 690x260x60mm |
| Power Storage Capability | 1280WH |
| Working Voltage | 10-14.6V |
| Power Charging Time | About 8 - 12 hours |
| Support Power Charging | By Local 220V to 12V Electricity |
| Solar Panel Dimension | 500x1000mm |
| Solar Panel Voltage | 90W ~ 100W |
| Qty of Solar Power Panel | 2PCS |
| Frame for Solar Panel | 1SET |
| Recycling Lifespan | > 3,000 times |
| Storage Module Weight | 7.92KGS |
| Maximum Charging Current | 100A |
| Standard Power Current | 15A |